Profile

Free Account
Created on 2009-05-01 17:04:06 (#178237), last updated 2009-05-10 (436 weeks ago)
14,394 comments received, 0 comments posted
602 Journal Entries, 148 Tags, 0 Memories, 1 Icon

About

Mini Bio

I am an adult, so you will find things of an adult nature in this journal.

The master list of my Bones fic can be found HERE. It can also be viewed by TAG. I know many people consider Fanfiction.net the seventh circle of hell, but you can also find my fic there at http://fanfiction.net/~lerdo. ;)

"Kindness is the golden chain by which society is bound together."
-- Johann Wolfgang von Goethe.

I am, therefore I write.

·This quote much sums up my feelings on a lot of things:
"We could learn a lot from crayons: some are sharp, some are pretty, some are dull, some have weird names, and all are different colors...but they all exist very nicely in the same box."

·I am:
Female, quiet at first but can be surprisingly goofy once you get to know me, loyal, fascinated by people, happily married, 31-years-old, a SAHM to a sweet newborn, and currently living in MD.

·Thoughts on friending and defriending:
Friend or defriend me as you like; I'm not easily offended. Click here if you're interested in my thoughts on friending people back.

·To ship or not to ship?
In my case, the answer is usually the former. :) I can't help it. Looking back, Jo & Teddy of Little Women were probably the first couple I rooted for (many years ago). Unfortunately, that didn't end well, since he wound up with her stupid younger sister, and she wound up with that boring professor.

·Favorite Pairings:
Buffy/Angel
Temperance Brennan/Seeley Booth

I am fascinated by the relationships between people, and not just the romantic kind, so I will read gen fic or fic for just about any pairing. There are infinite combinations of characters that can work if done right; I try to keep an open mind.

·Current TV Shows (Yay for DVR and TV on dvds):
- 30 Rock
- Battlestar Galactica: 2003 (current through 3x15)
- Bones
- CSI: NY (current through 1x13)
- Fringe
- The Office (U.S. version)
- Supernatural (current through 2x22)

I love TV, and I'm not ashamed to admit it. Of course, I often don't have the time to watch it, so I'm not always current on every show I like. But hey, that's why we have dvr and dvds.

·Past TV Shows:
- Angel: the Series (am very slowly working my way through the seasons)
- Buffy the Vampire Slayer
- Seinfeld
- Six Feet Under
- Touching Evil (U.S. version)
- The Wire
- Witchblade

·Other stuff: In addition to loving tv and books, I love to make wallpapers and fanart. If you're curious, take a peek at www.digitalemissions.com.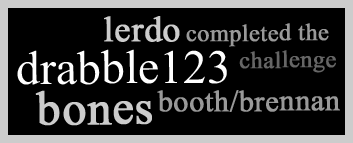 Layout profile code thanks to ReversesCollide

Connect
30 rock
,
angel
,
apollo/starbuck
,
arrested development
,
b/b
, b/b fanfiction, b/b fiction,
batman begins
,
battlestar galactica
,
battlestar galactica 2003
,
better than ezra
,
bones
,
bones the series
,
bones the show
,
bones: the series
,
books
,
booth/bones
,
booth/brennan
,
bsg2003
,
buffy
,
buffy the vampire slayer
,
buffy/angel
, buffy/angel fanfic,
buffy/angel shippers
,
cain/dg
,
charlie crews
,
christian bale
,
creativity
,
csi:ny
,
dani reese
,
david boreanaz
,
desktop wallpapers
,
ed kowalczyk
,
fan art
,
fanfiction
,
feminism
,
fiction
,
firefly
,
fringe
,
harry potter
,
jack/liz
,
jason bourne
,
jo/laurie
, jo/teddy,
joss whedon
,
jossverse
,
kindness
,
knitting
,
lee/kara
,
life
,
literary fiction
,
motherhood
,
movies
,
music
,
new york city
,
novels
, parenting photoshop,
reading
,
seinfeld
,
sex and the city
,
six feet under
,
supernatural
,
the dark knight
,
the office
,
the wire
,
tin man
,
walking
,
wallpapers
,
warm weather
,
writing

People
[View Entries]

Communities
[View entries]

Feeds
[View Entries]

Subscriptions (0)

Linking
To link to this user, copy this code:
On Dreamwidth:
Elsewhere: